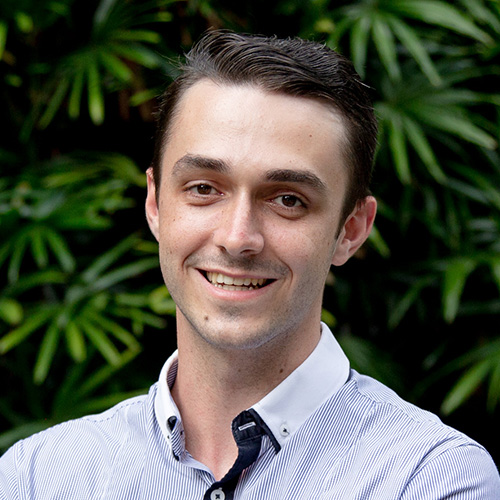 Deciding your career path
Coming from a family of electricians, Mitch envisioned a life filled with electrical systems and switchboards, which is why he began his university career studying electrical engineering. But it was a fateful internship where Mitch discovered his desire for "rapid innovation", or rather his impatience for hardware and his need for instant gratification. Once Mitch understood that electrical engineering wasn't the career path for him, he changed his major to software engineering.
During his university years, Mitch dabbled in entrepreneurship with a fellow student. However, he quickly realised that the start-up scene was not for him and that he preferred to look for a more traditional corporate job. Ironically, he ended up joining a young start-up technology company as a casual software developer in 2015.
Taking chances
After joining Polymathian and spending time supporting ORB, Mitch moved to the Tropofy team, the group responsible for developing the proprietary platform that enables Polymathian to deploy its cloud-based optimisation software. Mitch noticed during his early tenure that Polymathian was an employer that promoted from within, so when the opportunity presented itself Mitch applied for the technical manager role. Mitch said, "I put my hand up for the job despite not having managed a large development team before. It was a challeging position to be in, but I'm grateful I was given the opportunity. It seems I must have done a pretty good job."
Yes, it would seem so, as the Tropofy platform is truly the backbone of Polymathian.
"In the early days at Polymathian, we didn't want to partner with any single cloud service provider, wishing instead to remain autonomous", recalled Mitch. This led to one of his first critical business decisions: pushing for a mindset change from remaining autonomous to hitching our wagon to AWS. Mitch began to understand that "Shifting a lot of the undifferentiated heavy-lifting to AWS allowed Polymathian to grow and scale our solvers, our engines, and run what-if analysis that would not have been possible otherwise".