The Customer

Rio Tinto owns and operates a range of bauxite mines near the town of Weipa, with a recent expansion extending the life of the operations by at least another 40 years.
The bauxite is shipped to international customers but the majority is supplied to the Queensland Alumina Limited and Yarwun refineries. These refineries produce alumina as feedstock for Australian aluminium smelting operations and for sale into global markets.
The Problem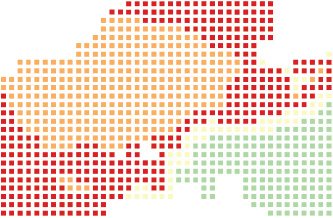 Sample output of a mining sequence
Every quarter a plan for the next 5 years of Rio Tinto's Weipa operations need to be created. This plan has to meet production targets and conform to a range of product and mining constraints. Given the 2D nature of the planning problem which affords some flexibility, it needs to result in a practical mining sequence.
These plans were created manually, often taking weeks to produce a single solution. As such it was impossible to ever know if they had achieved optimality.
The Solution
In close consultation with Rio Tinto's subject matter experts, Polymathian designed, built and deployed an online mine planning optimisation tool aimed at alleviating the challenges placed on the planning teams.
As a result of the tool, the planners were able to dramatically reduce the time it took to produce a solution by automating the complicated process. Each solution also simultaneously optimised:
Product blend
NPV
Block precedence
Mining sequence practicality
Haul truck and haul road capital expenditure
Customer alumina content demand
Customer differentiation
Not only did it provide full coverage of their operations, it was something that no other tool on the market was able to do.
The Benefits
By utilising the tool, the teams were able to greatly increase their level of planning sophistication. It meant solutions with much better product specific grade conformance, increased NPV and mining practicality could now be produced automatically in under an hour.